The Coastal Sand Home Watch Difference
We understand your home when we take our time to inspect your home thoroughly each time we are there. There is NO 5-to-10-minute home watch inspection with Coastal Sand Home Watch. We treat your home likes its our own. We truly care about the results we provide. 
We spend approximately an hour or more at your home depending on size. (Longer on our first visit to get a baseline)
We start at the curb. Look Listen Smell
We walk around the outside of your home looking at home/trees/bushes/sprinkler heads/windows/lawns/pool equipment etc. Photograph and/or video all findings.
Once inside we inspect every room big or small. We take our time with a flashlight in hand looking at walls, ceilings, floor, closet, bathrooms, laundry rooms… We will disclose everything we find. Photographs and video if needed to support our findings.
We run water in each basin, tub, shower and brush and flush each toilet.
We pay close attention to your A/C system, your inside temperature and humidity level. As part of our service, we provide photos of your thermostat, a hygrometer with its reading and notes on any adjustments to help maintain a humidity level of 55% or less. Florida is a high humidity climate and mold can start to grow when your A/C unit is malfunctioning and the relative humidity level exceeds 55%. If your A/C system is not set correctly or operating properly, the clock is ticking on the presence of mold in your home. This combination can bring anxiety to a homeowner who is far away. We take this reading very seriously and follow this as our best practice.
In the event we find moisture in your home, for example a roof leak, we are able to provide a moisture reading along with photographs from an Infrared Moisture Meter. We have been able to pinpoint leaks to help expedite repairs which saves time and money.
Once the home-watch inspection is complete, we provide a detailed report that includes all our comments and photos.
Looking out for our clients
During one of our visits to a client's home, we found the sign of a leak in one of the bathrooms. Using a moisture meter, we found that based on the moisture content there had recently been an active leak.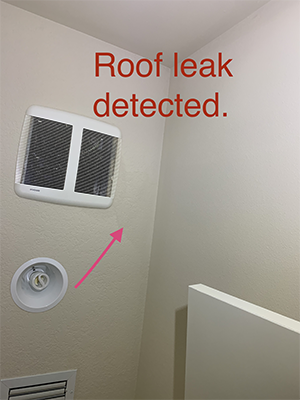 Using our infrared camera, we were able to identify the location of the leak in the roof.
We notified the home owner and they contacted a roofing company.  We met the roofer and showed them our picture and they were able to immediately identify the location on the roof and make the repair.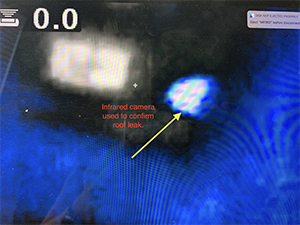 Problems We Have Identified